Cute & Romantic Good Night Message for Wife: One of the best ways to express your love to someone apart from presents, dinner dates, and spending time together is through goodnight messages. Romantic, heartfelt, beautiful, and touchy goodnight texts can strengthen the bonds of love and rekindle the sparks of romance.
Sending a heartfelt good night message for wife shows that you are thinking about her and she is always in your thoughts. There is nothing as beautiful as sending a good night love text to my wife. Nothing beats a romantic note to express your feelings for your wife and keep her thinking about you. Whether your love quote is cheesy or clever, texting her out of the blue or while you're away can make her feel extra special.
Spice your relationship with your wife with one of these good night messages for wife. Pick the one that best inspires you. Let her go to sleep knowing that you love her.
Good Night Message for Wife
May you sleep soundly and peacefully tonight! May you be aware of my affection in your dreams! Good night, my lovely wife.
Going to bed without you is excruciating. I wish I could feel your warm breath on my lips and your smooth skin on my skin. I wish you a wonderful night's sleep and a deep restful slumber. Love, all of my dreams are about you.
My bed is going to be lonely again without you. I hate it there when you are not around. I miss the tenderness of your skin, the warmth of your breath when we kiss, and the beauty of your smile before we sleep. This bed is a strange place without you. I miss you, love. Good night to my sweet wife.
In the comfort of a good night's sleep, the body recharges itself. But I sleep so that my heart can recharge in the comfort of a lovely woman I call my wife. Good night to my lovely wife!
You are a divine gift; you are the answer to all of my prayers. I am so fortunate to have you in my life; my happiness is entwined with yours. Have a restful night, sweetheart.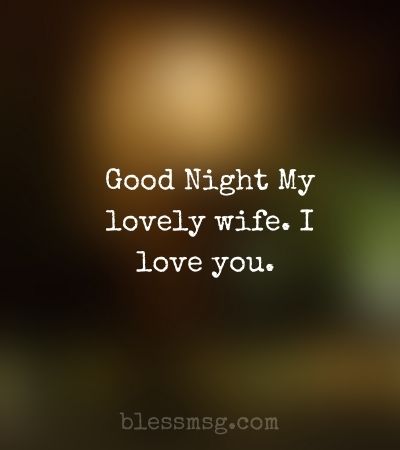 I want to spend every day and every moment of my life in your arms, surrounded by your warm kisses and solid embrace. Good night sweetheart!
How can I go to bed without saying goodnight to the woman who makes every moment of my day wonderful and every day of my life worthwhile? Honey, good night.
The night is still young, yet it feels like I have been waiting and thinking about you on this bed for eternity. I'm eagerly anticipating the arrival of daylight. If things keep continuing this way, my heart will rot away. All I want to do now is kiss you. Good night to my lovely wife.
If I had one wish, it would be to spend more time with you. I don't know how many years fate has bestowed upon me, but I do know that they are insufficient to express how much I adore you. Good night my love.
Read: Heart Touching Good Night Message for Best Friend
Good Night Message for My Wife
My mornings are spent anticipating the arrival of the afternoon. My afternoons are spent anticipating the arrival of evenings. My evenings are spent counting down the minutes till I can take a lovely wife like you into my arms and experience the warmth of true love. Good night my wife!
In life, there are no guarantees. Except for one thing: your kisses always make me dream of a wonderful future. Until tomorrow, good night to the love of my life. I love you.
As you drift off to sleep, darling, remember that I will always be here to help you realize your dreams. As I go to dream, you will be part of the dream. Good night my beautiful wife!
Going to bed, I am a happy man, knowing that I made the right decision in life. I can go to sleep peacefully knowing that I will wake up to the same beautiful decision. The decision was to marry you. Thank you for being my wife. Good night sweetheart, I love you.
It doesn't matter how exhausted I am when I get home; all that counts is that you are there with me. Your presence alone is enough to revitalize me for a strong tomorrow. Good night, sweetheart.
I know how much my love for you overwhelms me as I think of you lying there in deep sleep. I can't express how much you mean to me in words. Greetings and good night!
I've become accustomed to dreaming about you every night. Even though I enjoy seeing you in my dreams, I want to feel your presence. I'm looking forward to seeing you again. Sweetheart, have a restful sleep and a lovely morning.
Read: Cute Goodnight Texts for Her
Good Night Messages for Wife
It's time to unwind and rest. May your dreams be pleasant, and know that you are on my mind as you sleep. Tonight and in the future. Sleep soundly, my Love!
I detest the days when I can't sleep next to you. The beds feel thorny, and the sheets smell like the skin of a skunk without your scent around. Please return soon, my dear. I love you, good night, sweetheart.
You are the love of my life, the finest dream I've ever had, and everything to me, and I never want to be without you. Good night my Love.
I'm sorry if I sound foolish, but I can't sleep without you. You have the ability to make me feel some type of way, a way that I can't explain. Guess that makes me a fool, a fool in love. Get some rest and return to me, for I can't seem to live without you. Goodnight my lovely wife!
I cherish the moment I met you. You have brought calmness, joy, and hope into my life. I don't take this for granted. I just wanted to let you know that I appreciate everything you have done for me. Not only that, but I love you, my wife. Have a lovely night.
Even though you constantly appear to be an angel, your sleeping appearance is as serene as any lovely flower. I miss that serenity in my bed. The dreams I experience about you are treasured. Good night, my wife.
Good Night Message to My Wife
You are a dream come true, and I am grateful to God for allowing me to meet you. I wish I could wake up close to you every day. Good night beautiful.
Nothing disorients me like missing you. I can't figure out why your absence makes me so weak, and vulnerable to boredom, and sadness. You brighten my life, my soul, and my heart. Come back soon, love. Goodnight.
I know you've had a long day and are looking forward to sleeping, but I just wanted to let you know that I love and care about you. You can always rely on me, sweetie. Relax and let go of your worries. Goodnight to my beautiful wife.
I thought that I am paranoid about failing to sleep because of your absence, but our kids are also tossing and turning around without you around. Come back soon, we miss you. Have a great night, sweetheart.
Being married to a beautiful and compassionate woman like you is a dream come true; in fact, since meeting you, all of my dreams have come true. Before sleeping, I just wanted to remind you that you are a very special woman. I adore you and wish you a wonderful night.
I want to assure you that I will share all of your problems with you, wipe your tears, look after your heart, and love you for the rest of my life. Good night, my wife.
Every day, my hopes grow brighter, my goals grow stronger, my love grows deeper, and my heart grows fonder – all for you. Good night, and have a good night's sleep.
I miss you so much, and I think about you every minute, no matter how far away I am. I wish you a wonderful night.
Good Night Wishes for Wife
Our love is an open field where dreams flow wild like wild horses, and my life is whole because of you. I have never been as complete as I am after meeting you. Wishing you a spirited night's sleep. Sleep soundly, my Love.
I'm really missing you! Going to bed without you makes me so miserable that I can't sleep for hours. Please don't go far away from me again! It feels like you left with my life as well. I miss you, my love. I can't wait to see you tomorrow. Goodnight!
Greetings, my wife! I'm always amazed at how you manage to accomplish so much for this family. I am very proud of you. Tonight, put all of it behind you and get a decent night's sleep. Dreams of sweetness!
How lovely it is to unwind at the end of the day in the warmth of your wife's arms. That is what I miss about you being away.  I adore you, my beautiful wife, and I wish you a restful night.
We were both rushing to go on with our lives this morning, but I'd like to take this opportunity to remind you how much it means to me to wake up next to you and see your lovely face again tomorrow. Good night sweetheart.
You are the beauty in my heart. Goodnight my beautiful wife!